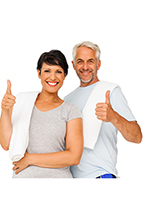 Introduction To Body Wise
Better health? More money? Hear how real people just like you have changed their lives with Body Wise optimal nutrition. Discover the extra monthly income you can generate by sharing Body Wise products with others.
Body Wise Millionaires Debbie and Jim Powers
Discover how two teachers from Indiana were able to retire early and buy the beach home of their dreams in Florida. While their results are not typical, they are inspirational. Hear how they did it directly from Debbie and Jim, Body Wise CEO Bill Farley and Senior Vice President Steve Hughes.
*These statements have not been evaluated by the Food and Drug Administration. This product is not intended to diagnose, treat, cure or prevent any disease.